Pawsome Adventures: How to Travel with Your Cat Like a Pro
Pawsome Adventures: How to Travel with Your Cat Like a Pro

Explore the ins and outs of traveling with a cat, from choosing the right carrier to dealing with common travel-related issues.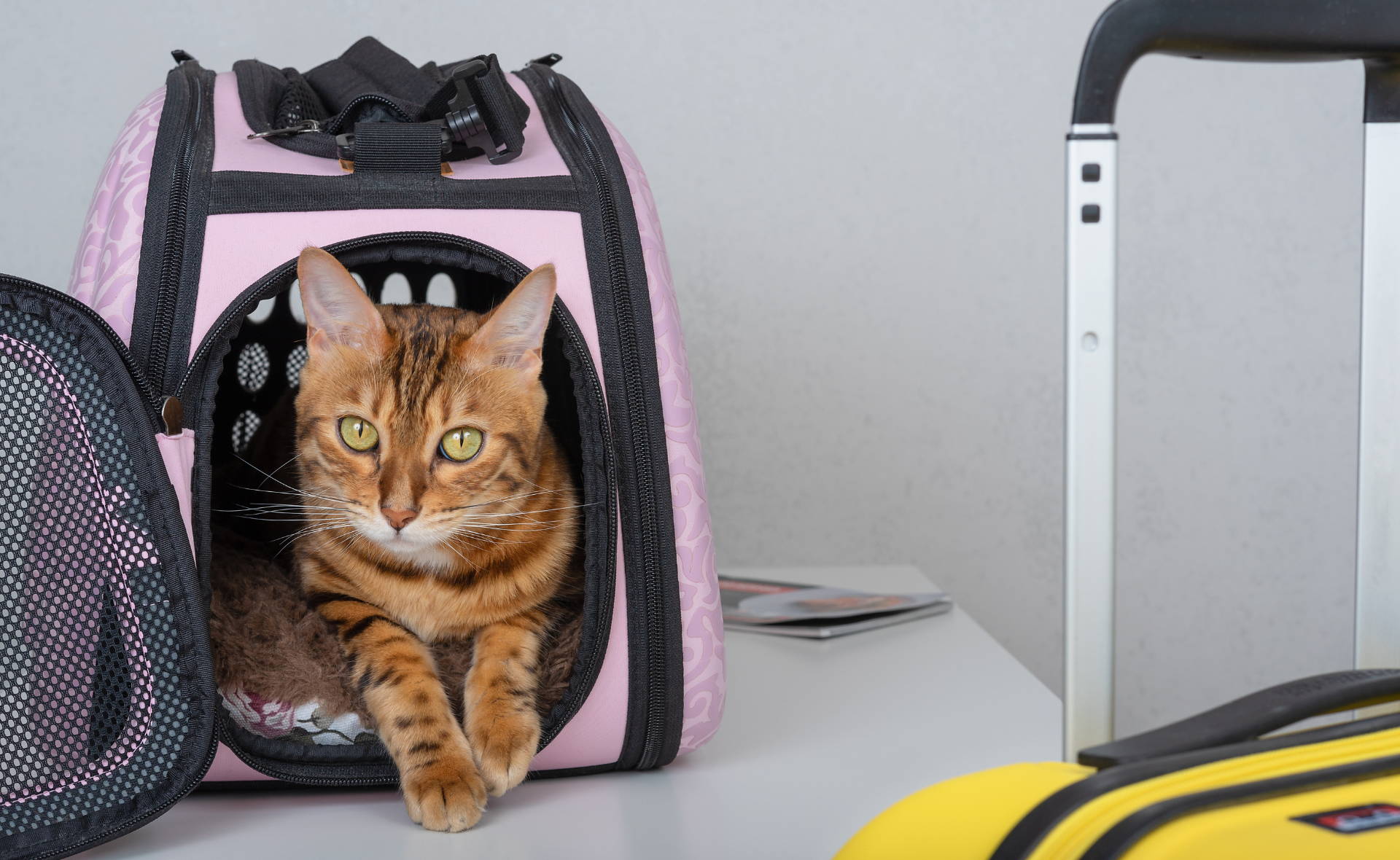 ---
Heading out on a vacation can often mean leaving your furry family members behind with a trusted sitter — but what if you could bring them along for the adventure?

While we know cats can sometimes be the high-maintenance members of the family, that doesn't mean traveling with them has to be all that challenging!

In fact, with a little pre-planning, traveling with a cat can be quite simple and enjoyable! If you're thinking about having your cat join you on your next adventure, here are a few key things to think about before you head out.
First consider what kind of travel

How you're planning to travel brings along a whole set of different recommendations and necessities. Are you traveling by plane, train, automobile…boat, even? The things you will need to have on hand to keep your cat comfortable in these situations will vary.
Of course, once you determine how you plan to travel, you'll want to figure out where you're headed! Thankfully, a quick turn to the internet will help you find a large variety of cat friendly accommodations — from hotels to motels, and rental spots like AirBnBs and VRBO.


Traveling by plane?
The great thing is, this is a very popular way to travel with a pet — especially a cat! The most important thing to do as you begin planning your travels is to see what requirements your airline has for traveling with a pet. It's also helpful to know how much it's going to cost to include your cat in your travel plans!

Ideally, you would want to have your cat with you, under the seat in front of you vs. boarded beneath the plane (this isn't generally a concern with cats due to their small size, but it's important to check as every airline has different requirements).

You'll want to be sure you have a carrier that both meet the airline's guidelines and one that your cat is comfortable in. It would be best to test out the carrier a handful of times before your trip to ensure that your cat sees it as a safe and cozy place. Consider giving them some treats when they climb inside! (We've got plenty of great treat options for you to choose from!)
Traveling by car?
Thinking about a cross country road trip? Bring your cat along for the ride! There are quite a few perks when you're traveling by car — mostly that you won't have to accommodate any commercial travel restrictions! You're able to bring more of the comforts of home that your cat may appreciate on the journey.

When traveling by car, be sure that you still have a carrier to use and place in the backseat of your vehicle. It's important to make sure that your cat is secure both for its safety and yours — a cat roaming around in the car can be distracting and hazardous.

An added benefit of car travel is being able to stop whenever you (and your cat!) needs to for bathroom breaks, snack breaks, and just to stretch your legs. Be sure that you're taking breaks regularly to make sure your cat is comfortable for the journey. When traveling long distances by car, it's best to stop at least every 2-3 hours for breaks.


Traveling by train?
Thinking of a trip by train? That's totally doable with a cat, too! There's more opportunity to move around, and there may be less restrictions than you'll experience on a plane. It's important to keep in mind that the sounds on a train may be new to your cat, so some considerations may need to be made there.

If you suspect that the noise on a train may make your cat nervous, or uncomfortable, consider talking with your vet before traveling to try a sedative or anti-anxiety medication that may help them to feel more relaxed for the journey. Similarly with trying out the carrier ahead of time, it's best to test these medications before you depart to ensure that they react well with your cat and have the intended effect without any other unpleasant impacts.


Traveling by boat?
While it may be less likely that you'll be traveling by boat with your cat, it's still a possibility, so we'll cover that, too! Many of the same considerations will be at play here — making sure to create a comfortable environment in their carrier will be key — but there's one important thing to keep in mind on a boat trip. Sea sickness. Yes, it can impact animals, too!

If, by chance, your cat experiences motion sickness, you'll want to be prepared with the necessities to make them as comfortable as possible. Again, it's best to chat with your vet to see if there are any medications you can turn to should this be an issue during your travels.
Make sure you have all of the essentials

Whether you're traveling short or long distances, or even heading overseas, you'll want to make sure you have everything you need to make your travels easy on you and your pet.


Here's a simple checklist (that may have to be revised, depending on your type of travel) to ensure you have all of the necessities before you leave for your trip!



- Kitty litter
- Travel-friendly litter box
- Medications (for travel, and for general health)
- Enough food for your entire trip (plus a little extra, to be safe)
- Treats
- Food and water bowls
- Cat Carrier
- Any "creature comforts" for the carrier (i.e. blankets)


- Documents from your veterinarian (vaccine records may be required for international travel)
Recreate the comforts of home

Much like us humans, our pets are creatures of habit. Keeping some of those habits from home intact on your travels can help ease your cat into the journey. Things like, keeping meal times consistent, bringing as many of the comforts of home as you can (i.e. toys, blankets, snacks, etc.) can help your cat settle in and enjoy the time away from home all the more!


Part of travel you can always plan on? For things to go a little awry at some point. Your best bet? Prepare for and plan for the unexpected! Maybe this is just packing those extra medications we mentioned early (anti-nausea, anti-anxiety), or researching emergency animal hospitals in your new destination (just to be safe) — anyway you can better prepare yourself for any unexpected mishaps will be worthwhile!

Traveling with a pet can make the experience so much more enriching and fun! It's so special to be able to create and share special memories in special places together. Remember to pack the treats to keep your furry friend happy, and enjoy the adventure!
---