Celebrating National Rescue Dog Day
Celebrating National Rescue Dog Day
Nearly 4 million dogs are surrendered to shelters every year in the US, on National Rescue Dog Day we want to celebrate rescue pups, and the shelters that help them find their forever homes.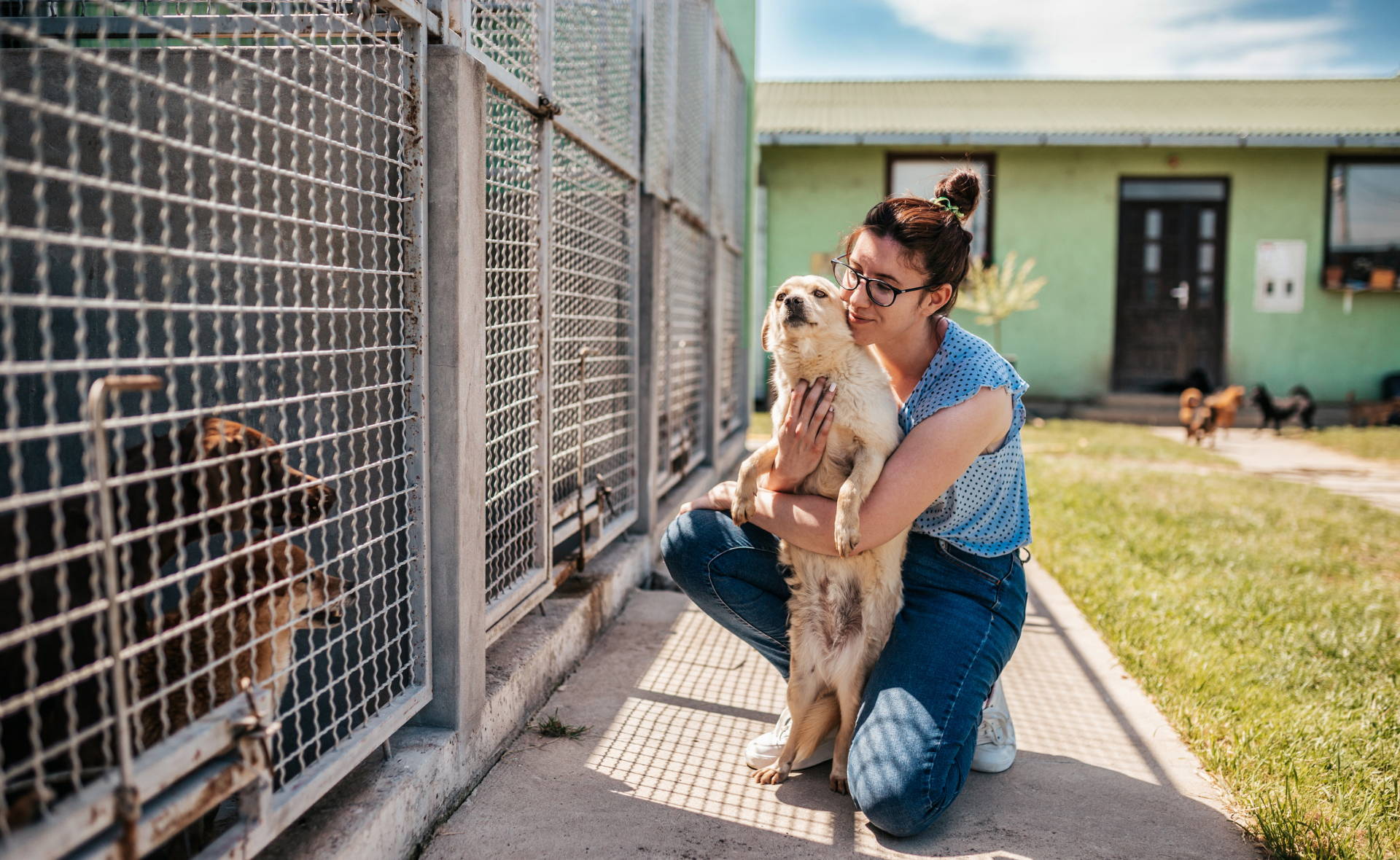 ---
What is National Rescue Dog Day?

Of course, it's a day to celebrate rescue dogs — but it's so much more. National Rescue Dog Day is on May 20th each year, and it brings awareness and attention to rescue dogs across the country and highlights why they are so special and deserving of recognition, love, and support.
Curious how National Rescue Dog Day came to be? According to NationalRescueDogDay.com, "The day was founded in 2018 by Lisa Wiehebrink, children's book author and Executive Director of Tails That Teach, an organization that helps children learn the kind and proper treatment of their pets."


Why should you rescue a dog from a shelter?

Truly there are so many reasons, but most boil down to this: you can save a life.
Whether you're actively choosing not to support puppy mills, or because you know shelters often have no choice but to have to euthanize dogs due to overcrowding, illness, etc., rescuing a dog can help save more lives than you think.
How are you saving a life? When you bring a shelter pup home, you're opening up space for that shelter to welcome another pup to find its forever home! And when you choose not to support puppy mills, you're protecting dogs from the suffering of overbreeding and puppies from being raised for profit in often deplorable conditions.
Not sure what a puppy mill is? The Humane Society defines it as "inhumane high-volume dog breeding facilities that churn out puppies for profit, ignoring the needs of the pups and their mothers."
Not sure how you can identify a puppy mill? The Humane Society says, "Puppy mills commonly sell through internet sales, online classified ads, flea markets and pet stores. In fact, the majority of puppies sold in pet stores and online are from puppy mills. Responsible breeders will be happy to meet you in person and show you where the puppy was born and raised—and where their mom lives too."


Do shelters have purebreds?

Most often, aspiring dog owners head to breeders specifically because they believe they can't find the breed they want in a shelter — and that's simply not true!
While it may take a little more effort in your search, finding a specific breed is highly possible when looking in shelters. In fact, according to Pawtracks, "​​an estimated 20%–30% of all shelter dogs are purebreds."
This is largely due to the fact that puppy mill dogs often end up in shelters for one reason or another (a family chose to surrender it, the puppy mill breeder had more litters than they could sell, etc.).
According to Chewy.com, the ten dog breeds most often found in shelters include American Pit Bull Terrier, Labrador Retriever, German Shepherd, Dachshund, Jack Russell Terrier, Chihuahua, Boxer, Beagle, American Bulldog, and American Staffordshire Terrier.
Search shelters in your area, and reach out to find out if they have the specific breed you are looking for! Most shelters are also very active on social media these days, so you're likely to be able to scroll through to see their available puppies or send them a message to inquire about available puppy breeds in their facility.
Here are a list of some great organizations and shelters to consider supporting during National Rescue Day:
What should you know before bringing home a rescue dog?

You should know that rescue dogs are just as loving and loyal as any other dog — and likely due to the circumstances that landed them in a shelter, they're truly in need of that same love and loyalty in return.
While this isn't always the case, dogs in shelters can be impacted by the emotional trauma of being surrendered and the stress of being in a shelter environment. So, they may need a little extra time to adjust to a new home and a little extra time to trust in their new surroundings.
Like all dogs, your rescue pup should receive training and socialization. If you're unsure of what your rescue pup needs once you're ready to bring them home, ask the shelter! They've been around your dog for some time and may even have fosters you can reach out to, who can give you valuable insight into your new rescue pup's behavior, attitude, and personality.

Not ready to adopt just yet? National Rescue Dog Day could be an excellent opportunity to foster! Fosters offer shelter dogs the chance to get a change of scenery and leave the shelter while still searching for their forever homes — this also allows the shelter to take more dogs in.
Fostering does more than create space in the shelter — it's also a great way to socialize shelter dogs, help in the training process, and get valuable insight about the dog you're fostering, from behavior to personality and everything in between.
All the effort put forth by fosters can significantly help their foster dogs' chances of adoption. Though, be warned, #FosterFails happen often… it's hard not to fall in love with a dog when you bring them home and bond with them!


How can you celebrate National Rescue Dog Day?

There are so many ways you can celebrate National Rescue Dog Day this year (and every year!) to help raise awareness for rescue dogs and this special holiday!
Volunteer your time: Shelters often need extra support, especially when their spaces are full. Whether that's helping with administrative tasks, cleaning, or helping to create content for their websites — you name it, they'll surely take the help! Each shelter will need different things from their volunteers, so reach out and see how you can help!


Donate: Medical bills can be incredibly steep for non-profit animal rescues taking in sick or injured dogs and puppies. Monetary donations help allow the shelter to continue caring for and taking in sick and injured dogs. National Rescue Dog Day is a great day to make your first donation! Rescues are often looking for other forms of donations, like blankets, food, treats, toys, etc. Reach out to your local shelters and see what is on their need list!


Get social:

Help raise awareness for this holiday! If you have a rescue pup in your life, share a photo of them on May 20th and use the hashtag #NationalRescueDogDay to help spread the word that this holiday exists and encourage others to celebrate it, too!
The website for National Rescue Dog Day has some additional ideas on how to celebrate the day, including adopting a rescue pup, fostering, and helping to educate others (they specifically mention children) about "the importance of kindness, unconditional love, and responsible care of all animals."
Join us in celebrating National Rescue Dog Day on May 20th each and every year!
---