Where (...and why!) To Buy Shameless Pets Treats
Where (...and why!) To Buy Shameless Pets Treats

Keep your pets, and the planet happy and healthy with upcycled Shameless Pets treats!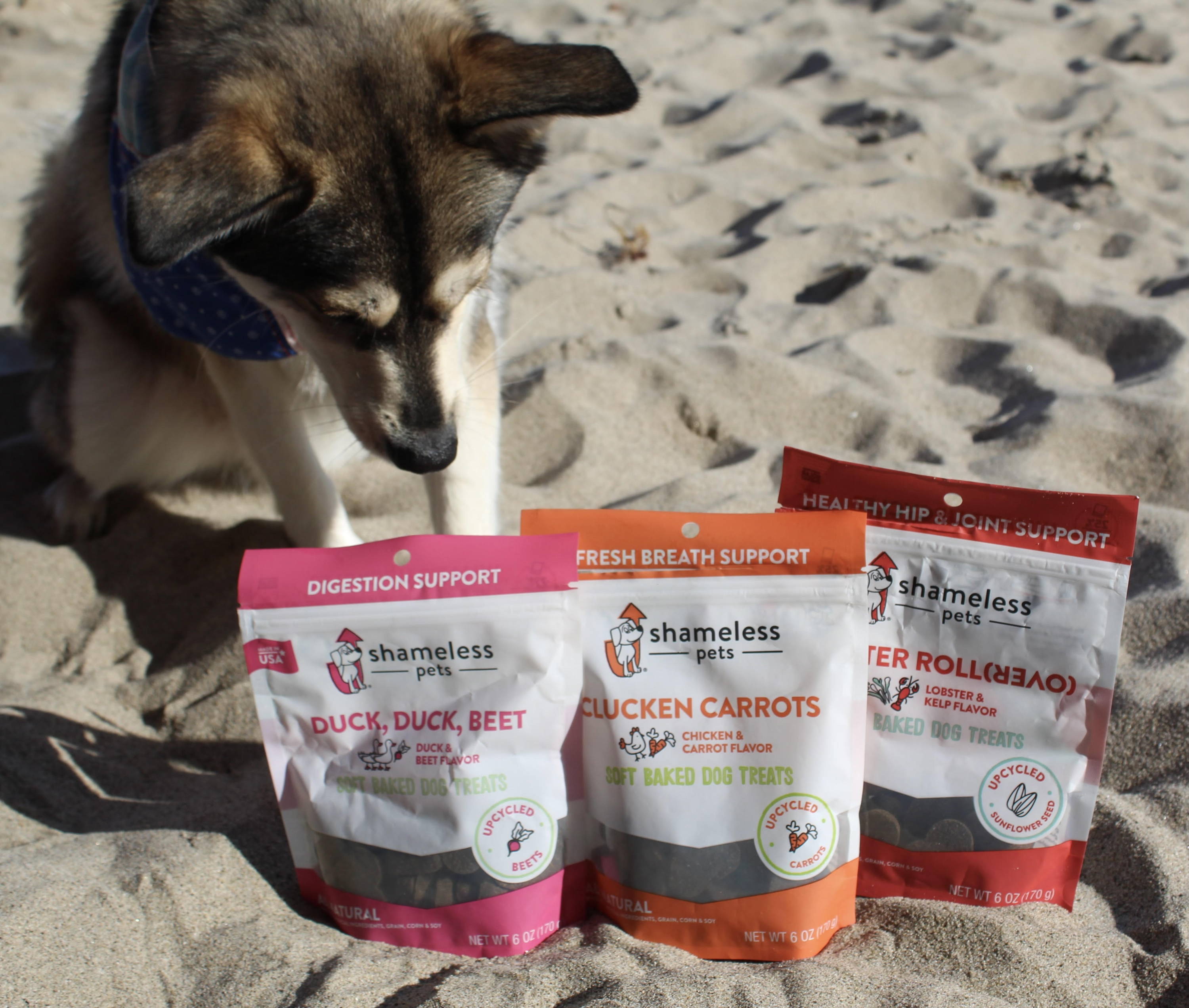 A treat a day could keep the vet away? That's the kind of thing we had in mind when we sat down with a nutritionist to craft our Shameless Pets treats. With nutritious, upcycled, superfood ingredients, you can rest assured that your super pet is getting more than just a tasty snack at treat time.
Available in stores throughout the US and online, grocery shopping for your fur baby just got a whole lot easier.
First, let's get to where to buy, then we'll cover the why.


Where can you find Shamless Pets treats for your Floof?
We're not hard to find — and we like it that way. Whether you prefer shopping in-store or doing some online shopping, we're here for you on shelves in supermarkets and pet stores and on virtual shelves, too.
Where to find us for sale in-store:
- Pet Supermarket

- Pet Supplies Plus

- PetSmart

- Petco

- Raley's

- Sam's Club (For a limited time)

- Target

- Tops

- Various independent pet shops and pet stores

- Walmart

- Whole Foods


We always recommend checking our Store Locator

on the Shameless Pets website to find treats in-store close to you.
Where to order online/shop online stores:
- Chewy

- Amazon

- Grove Collaborative

- Thrive Market

Misfits Market


Want a special delivery on a regular basis? Signing up for a treat subscription means treats show up at your door exactly when you need them — so you never have to worry about running out, and your fur baby never has to worry about missing treat time.
With our Shameless Pets Subscribe & Save option, you pick any pet treats, choose your delivery frequency (with options of every 2 weeks, 4 weeks, and 6 weeks), and let the treats come to you!
Now, onto why you should buy Shameless Pets treats for your fur baby…


Naturally nutritious and delicious
Pet pawrents love to see an ingredient list that looks familiar — read: ingredients they would actually want to eat, too.
It's not just about being able to read the label that's important to pet pawrents (and us here at Shameless Pets, of course); we wanted to make sure that our treats are packed with high-quality, natural, healthy ingredients.
So, what are some key ingredients you should expect to see on our packaging? Lots of fruits and veggies, real meat, and even fish and seafood, too!
These are a few of our favorite pet-palate pleasing ingredients:
- Apple

- Banana

- Beet

- Blueberry

- Butternut Squash

- Carrot

- Sweet Potato

- Pumpkin

- Lobster

- Chicken

- Duck
…And the list goes on!


On a diet? We've got you covered.
We know that hoomans aren't the only ones with sensitive stomachs or the need to follow a stricter diet regimen to stay feeling their best — so why should cats and dogs get the same accommodations with their treats?
Our USA-made pet treats are designed to fit into your pet's diet seamlessly and safely.
If you peruse our treat selection for both dog treats and cat treats, you'll find that ALL of the cat and dog treat options are:
- Gluten-free

- Soy-free

- Corn-free

- Wheat-free

- Contain no artificial flavors
As a bonus option, we have vegan dog treats as well!
Our treats are made for breeds of ALL shapes and sizes, and pets of any age — small dogs, large cats, kittens, puppies, and seniors — all pets are welcome to feast on Shameless Pets treats!
*Note: Of course, it's important to keep in mind that you know your pet's dietary needs and restrictions best; if you have other nutrition or diet questions, just drop us a line, and we'll make sure to get you an answer.


Benefits for your pet *and* the planet
Top of mind — and at the top of every treat bag — are the functional health benefits that each treat has to offer for your pet.
Looking to help support your pup's hip and joint health? We've got a treat for that — check out our Lobster Roll(over soft baked treats. Or maybe your cat needs a little digestive support? Crunchy Catnip N'N' Chill to the rescue!
Our nutritionist-crafted treats bring way more than just tail wags and happy purrs. From skin & coat support to fresh breath, you'll find that there's a health benefit for every flavor.


Where does the planet come in? We're glad you asked!
Fun fact about our fruits and veggies: they are sustainably sourced through upcycling!
We take surplus and misfit produce (think jumbo blueberries and mini sweet potatoes) and turn them into the high-quality treats your pets love. Here'sHere's another fun fact: Each bag of treats contains at least 20% upcycled fruits & veggies!
Whether you're shopping for Shameless Pets treats online or in-store, one thing's for sure — as soon as your pets hear that bag of treats crinkle, they're going to come running!
---